Once an almost unheard-of sport, pickleball is finding traction in the modern world of racket or paddle court sports. While the game looks similar to tennis (and is, in many respects), pickleball is a game with its own rules and a court less than a third of the size of a tennis court. A pickleball court, when measured, is approximately the size of a doubles badminton court.
Related To: Where to Buy Pickleball Paddles, Balls and Nets Online | Pickleball Paddle Brands | Types of Pickleball Training Aids | What Equipment Do You Need To Play Pickleball? | Types of Pickleball Ball Picker Uppers
Invented in 1965 in Washington State – as a game to entertain children in the backyard, pickleball is now the state of Washington's Official Sport. If you are wondering about the unusual name, one of many legendary stories notes that Joel Pritchard, the inventor, named his new sport after his dog – Pickles.
The Sport and Fitness Industry Association named pickleball the fasting growing sport in the nation in both 2021 and 2022.
Like tennis, volleyball, and badminton, the manner of play in pickleball is to hit the ball – the pickleball back and forth over a net (3 feet high) until a point is won. Pickleball, like tennis, can be played as a doubles or singles game.
The court and the perforated, hollow pickleball have minimal bounce, although the pickleball must bounce on each side of the net after a serve – before it can be volleyed. The underhand volley, plus a large non-valley court zone, creates a fast and dynamic game.
The popularity of pickleball can be attributed to several essential aspects –
New players can start playing quickly.
Individuals of all ages and diverse abilities can participate in the game.
Skills from other sports can easily be transferred to pickleball.
The game is quite strategic and challenging.
Ready to dink a winner on the pickleball court? Check out these essential accessories for pickleball players.
Accessories for the Pickleball Player
1. Pickleball Paddles
You need a paddle to play pickleball. Fortunately, there are many different pickleball paddles from which to choose – constructed of various materials from fiberglass to graphite and wood. In addition, like most racket sports, a racket can be selected from different weights. In pickleball, they range from 6 to 14 ounces – where you give up its strength to gain control with a lighter racket.
Pickleball rackets are available in different grip sizes to accommodate different-sized hands and skill levels. It is recommended that new players test out different grips before deciding on which grip they prefer. And paddles may be made specifically for indoor or outdoor use, so make sure you select the one you want.
2. Paddle Covers
A pickleball paddle is not a huge investment, but one that can easily be protected with a neoprene paddle cover. These covers close over the paddle with a zipper and are made of durable material that will protect your paddle from cracking, scratching, or chipping.
Source: Nettie Pickleball Co.
Some companies will even customize a paddle cover with a photo or logo. Most paddle covers are available in a rainbow of colors and patterns – just make sure you get one that fits your paddle size.
3. Pickleballs
Pickleballs resemble that of a whiffle ball – a hollow, perforated ball primarily made of polypropylene or other durable plastics. While most are optic yellow, pickleballs are available in a variety of brightly colored balls. Official pickleballs must have a diameter of 74mm and weigh 26 grams.
It is important to choose pickleballs that have accurate machine drilled holes as this offers great consistency when playing. Pickleballs, like pickleball rackets, are designed specifically for indoor or outdoor use.
4. Overgrips
An overgrip, which is installed over an existing grip, is a great addition if you play hard or tend to sweat a great deal when playing.
Source: Tennis Express
Overgrips help your hands from slipping, especially in long matches in humidity or the hot sun. Choose durable overgrips, those with several layers of cotton that offer comfort, maximum tackiness, and moisture wicking.
5. Lead Tape
Lead tape is used to create and customize the perfect weighted pickleball paddle – one that feels perfect for your swing and game. Additional weight added by lead tape creates speedier volleys and even adds a pop to some shots.
Source: PickleballCentral
This accessory for pickleball is simple to install and can also reduce arm strain, which may lead to injuries. From a technical perspective, the lead tape can add ¼ of one gram per inch weight.
6. Pickleball Bags
Most pickleball players have a bag dedicated to carrying all their pickleball gear. Fortunately, there are many styles and sizes available – many of which offer adjustable straps (and a built-in fence hook) that contour to your body.
Most offer durable construction and padding to reduce back strain. The best pickleball bags will have several pockets to keep your paddles, balls, keys, phone, and water bottle.
7. Pickleball Hoppers
A pickleball hopper is a simple, handy device that makes a pickleball player's life a bit easier. The hopper helps you pick up a bunch of pickleballs without bending each time for each ball.
Source: Fromuth Pickleball
Most of these hoppers can be used for tennis or pickleball – some up to sixteen balls. As accessories go, the hopper is a back-saving, affordable smart choice that even comes with a shoulder-carry strap.
8. Pickleball Holders
Pickleball holders are great accessories, especially if you want to avoid constantly bending over to pick up a missed shot. Although there are many versions available, most clip around your waist (with an adjustable strap) with a pouch that holds several balls at once.
Source: PickleballCentral
Holders also save time as you can avoid chasing down balls after each series or point. Many have built-in clips so they can be clipped to a fence when not in use.
Accessories to Help Improve Your Pickleball Game
Most pickleball players are constantly striving to improve their skills on the court. Learning the game takes practice, so the more practice time you can experience, the more likely your game will improve –
1. Ball Machine
A ball machine, which can automatically toss balls from 12 to 20 feet, is an investment, but one which may pay great dividends. A ball machine that launches pickleballs is a great way to practice alone when no one is around for a game.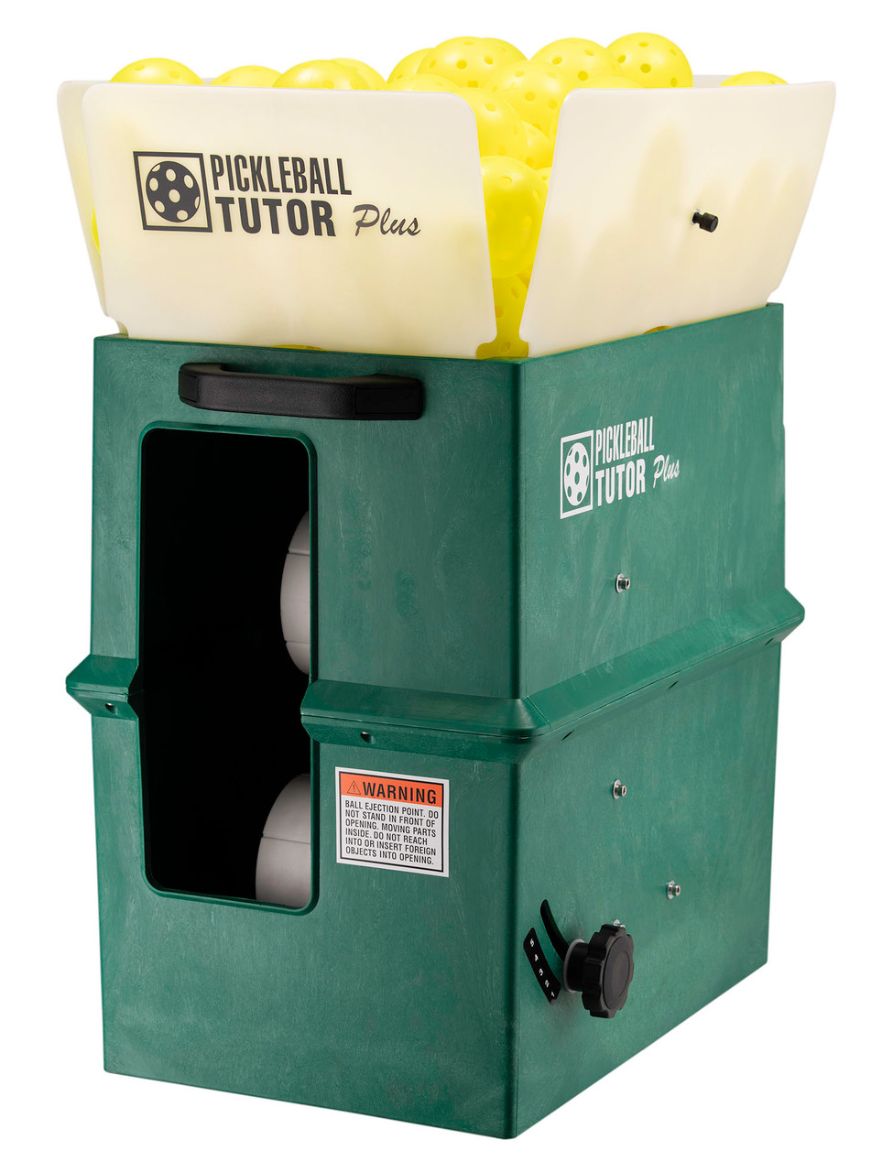 Source: OnCourt OffCourt
These machines can get expensive, but there are versions that are a) battery-powered and b) affordable. Some even have a remote control to manage the device. Depending on the size, these ball machines can hold more than 100 balls.
2. Practice Targets
Players interested in practicing their directional movements and strength can use polyvinyl practice targets that can be placed anywhere on the court. These practice targets are nine inches in diameter and constructed of non-skid materials that are rip-resistant.
These practice targets are available in bright colors and easily visible. They are also easy to store, needing little storage room when not in use.
3. Parking Lot Stencils – Court Line Marker Kit
When you can't find an open court or just want one of your own, these stencils map out the perfect area on which to play.
Source: Stencil Ease
Everything you need in one kit to set up your next pickleball game. Check out the Wilson Portable pickleball Net System as well.
Source: Wilson Sporting Goods
4. Rebound Nets
Want to practice alone? The Rebound Net is the perfect accessory that allows you to build endurance because the balls bounce back to you – without a partner to hit them back. The Rebound Net is free-standing and stands about a foot above the ground – creating the pickleball sweet spot.
Pickleball Accessories for a Player's Comfort
If you are going to play a serious or fun game or pickleball, it is important (for several reasons) to be comfortable while hitting that winner down the line.
1. Pickleball Gloves
Pickleball gloves offer several benefits to the player. On cooler mornings, they can warm your hands. They can also help increase your grip strength on the paddle grip while cushioning your hand on that overhead slam. Remember that these gloves are made for left-hand and right-hand players – in different sizes.
Source: Selkirk Sport
Most are made from a durable material (like leather), with wrist straps that adjust as needed to ensure a secure fit. The fabric in the palm area is moisture-wicking, and there is extra padding for the thumb and index finger.
2. Pickleball Shoes
Pickleball court shoes are an important accessory for any pickleball player. Like sneakers and tennis shoes, pickleball shoes are non-slip, with some constructed with a carbon plate. Choose shoes that are breathable and lightweight for comfort and speed.
Source: Wilson Sporting Goods
These pickleball shoes also offer sponge inserts to cushion your feet after playing for hours. But note, in a pinch, any non-skid sneaker that allows for movement will do on a pickleball court.
3. Pickleball Headband & Wrist Sweatband
Any tennis, racketball, or pickleball player will tell you that more than one shot has gotten away from them because of sweaty hands slipping on the racket's grip. A terry cloth or cotton headband in a heated match can keep sweat from dripping and stinging your eyes at the wrong moment.
Sweatbands are designed to be super absorbent but are quite durable even after many workouts and washings.
4. Pickleball Socks
Performance socks are a great way to protect your feet from an intense pickleball game, where friction is generated from constant motion and change in direction. The proper socks are moisture-wicking, offer extra comfort and protect your feet from blisters.
Source: Tennis Express
These performance socks for pickleball players are typically available in a variety of styles and colors. It is recommended that these soft and durable socks be hand-washed. Be sure to order the correct size.
5. Sunglasses
Sunglasses are an important accessory when playing pickleball. Blue tint glasses cut the glare from the sun, which allows a player to see the ball better during play. Sunglasses are also important as they protect your eyes from harmful UV sun rays if playing outdoors. Most are anti-fogging and lightweight, so they are comfortable to wear while playing.
Accessories for a Pickleball Player's Health
Exercise is a smart way to stay fit, young-minded, and healthy. Playing pickleball is a great exercise option because it is fun and easy to play. But if you plan to play in the hot sun for hours and want to play optimally, consider these health accessories –
1. Electrolytes
Staying hydrated on the court is essential – especially on a bright, hot day. Electrolyte water is supercharged for hydration and offers a clean taste.
Source: Hint Water
The infused water is pH-balanced which is refreshing and helps you recover quickly after an intense game at the height of the summer sun.
2. Reusable Insulated Water Bottles
Drinking enough water, electrolyte or otherwise, while playing pickleball is incredibly essential. However, making a choice to drink water out of plastic, throwaway water bottles is a poor choice for the environment and only adds to your carbon footprint. Plus, these insulated water bottles keep your hydration icy cold even in the heat.
These insulated bottles are rust and leak-proof and allow for easy pouring and closure.
3. Knee Brace
For pickleball players with sore knee joints or in need of extra support, a knee brace can help ease some of the discomfort. This brace is anti-slip (with an anatomically contoured gel pad to support the patella).
Source: GYMREAPERS
It can be used to stabilize the knee joint, ligaments, and tendons during gameplay. Note that it is available in various colors and should be sized appropriately.
4. A Towel
While any towel will do, there are towels embroidered and emboldened with pickleball theme gags and insider jokes. But all kidding aside, a towel is a necessity to help keep your hands dry when playing. Towels designed specifically for pickleball generally include a silver grommet clip that allows the towel to be hung anywhere.
5. Books on Pickleball
For the pickleball lover who wants to learn everything about the game, grab one of the many books written about this up-and-coming popular court sport.
6. Pickleball Trivia Game
When the rain arrives, or you have played the last round of the local tournament, kick back and enjoy a bit of pickleball trivia – with this travel-size, compact game. Like most trivia games, there are five categories from which to choose – history, rules, players, tournaments, and wild card.