I only learnt how to play pickleball a couple of years ago. The one thing I can tell you about it is that it is addictive – in a good way. While playing with friends for fun is so fulfilling, I love the thrill of a tournament. It has a unique way of heightening the game's enjoyment. Plus, you don't have to be a pro to take part in one.
There are so many pickleball tournaments – which we'll talk about more – there is something for everyone. Keep reading to learn about the different rules and structures of each. But first, let's discuss why playing in a tournament is a good idea.
Benefits of Playing in a Pickleball Tournament
Pickleball tournaments have so much to offer, apart from the heightening excitement. One of the benefits is the chance to build strong friendships and become a part of a community. Going to tournaments helps you meet people from different locations and walks of life.
Tournaments are also an excellent way to hone your pickleball skills. If you attend bigger tournaments, you learn from playing and watching other players, especially pros. Besides, knowing that you have a tournament coming up gives you the motivation you need to practice. Not to mention the opportunities you get to travel when the tournaments are out of your city.
Types of Pickleball Tournaments
Here are the different types of pickleball tournaments.
1. Sanctioned Tournament
A sanctioned tournament is one that has been endorsed by a pickleball governing body, such as the United States Pickleball Association. Such a tournament has to meet the international rules of pickleball. It must also be well-organized, fair, and safe for all competitors. Purposes of sanctioning include:
To optimize the operation of pickleball of pickleball tournaments
To ensure tournaments are safe and developmentally appropriate
To provide a fair and consistent competitive environment for all players
To ensure that there are sufficient opportunities for players across the country
For a tournament to be granted sanctioning, the tournament director has to go through the application process and meet all the sanctioning requirements. The requirements include the tournament director confirming all government health and safety protocols and having a certain number of participants.
2. Unsanctioned Tournament
Unsanctioned tournaments are not approved by any governing body. In an unsanctioned tournament, you can set your own rules and regulations. Or you can choose not to have any rules at all. Some unsanctioned tournaments don't have any prize money. They are primarily aimed at involving communities and bringing players together.
3. Single Elimination Tournaments
In single-elimination tournaments, players play each other in the best of three matches. The losers of each match are eliminated, while the winners move to the next round. This goes on until there is only one player or team standing.
4. Doubles Tournaments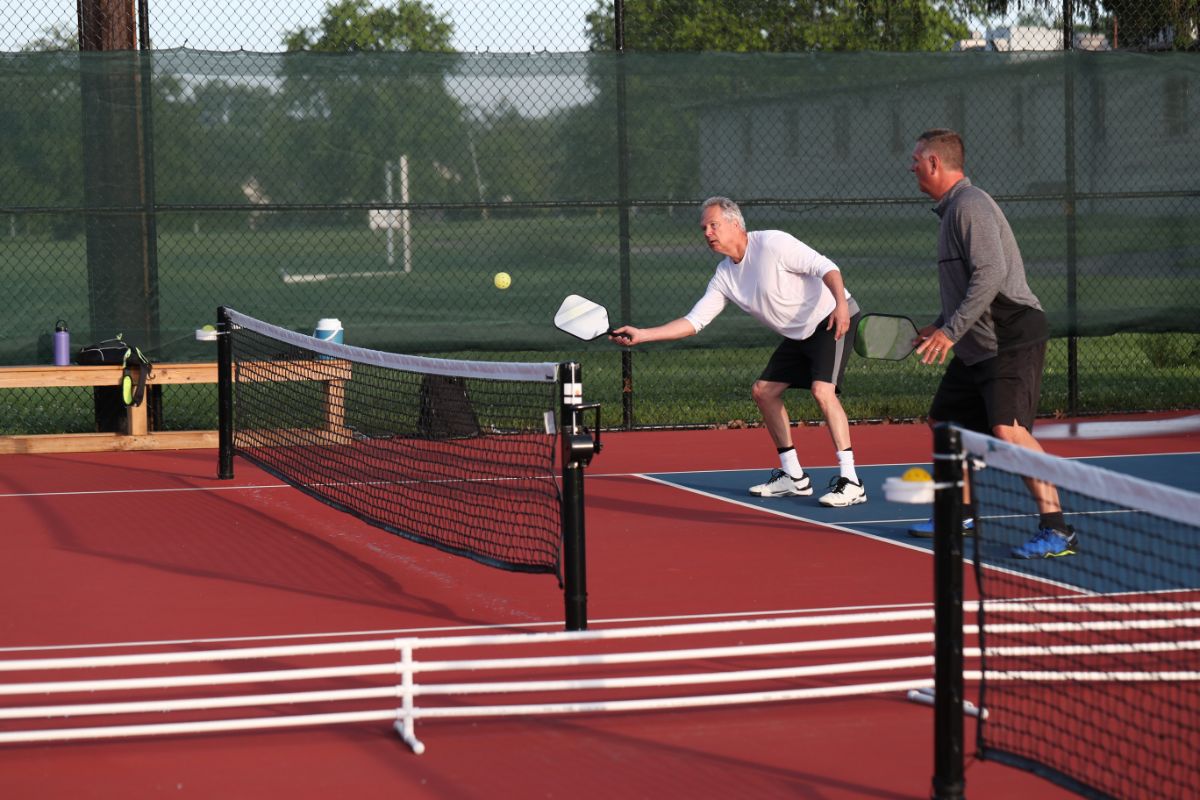 In a doubles tournament, teams of two players face off against each other in the best of three matches. The winning teams move to the next round until one team is left.
5. Round Robin Tournaments
In a round-robin tournament, all players and teams get into a pool and pay each other. The winner receives two points, while the loser gains one point. In the end, the player or team with the most points moves to the next stage.
6. Consolation Tournaments
As the name suggests, a consolation tournament is for players who have lost in the main tournament. The losers from the main tournaments get into a pool and play each other in the best of three matches. Whoever wins the most matches wins the consolation tournament.
How to Find a Pickleball Tournament
If you are ready to dive into the world of competitive pickleball, you must find a tournament near you. Lucky for you, you can do that in a couple of ways. The first one is checking the USA Pickleball Association's website. They keep a list of upcoming events, and you might find something in your area.
Social media is another excellent resource. High chances are there is a pickleball group for your location on your favorite social media platform. Here, you can find dates and venues for local tournaments. Finally, consider checking community centers near you to see if they have anything coming up.
Basic Pickleball Tournament Etiquette
Pickleball has a solid social culture around it. You can't make it to the end of a tournament without interacting with people. That's why it's essential to familiarize yourself with what I like to call "pickleball tournament etiquette." Not the rule of thumb, but they sure help. Here are some of them:
Bring your ball – don't rely on other players
Call the score loudly when you are serving
If you are a spectator, don't make calls, including line calls
Avoid giving unsolicited coaching advice
Introduce yourself before every game
Welcome new players into the court
Paddle tap after every game
How to Organize a Pickleball Tournament
While playing is fun, it might also be nice to try being on the other side of the table – the planning side. But it's no easy feat. Here are some of the things to consider to plan a successful pickleball tournament:
Expected Number of Players
The number of players you expect will determine how many directors and game-day volunteers you need for the tournament. If you are only expecting a few, say under 100, two directors and a couple of volunteers should be sufficient. A bigger event would need more hands on deck.
Setting the Date
The good thing about pickleball is that it's an all-year sport. That gives you so much planning latitude. To be safe, set the tournament date months in advance. That gives the players enough time to prepare, and you can put everything together without a rush.
The Venue
You can either organize an indoor or outdoor pickleball tournament. Each has pros and cons, but perhaps the time of the year should be the determining factor. An indoor tournament would be good if you set a date in the summer or winter. It would also be a good idea to talk to the players and see whether they prefer playing indoors or outdoors.
It would help if you also considered the venue costs. In most cases, indoor venues are more costly. On the other hand, you might find outdoor venues that are typically free but have limited courts and other amenities like restrooms. Whether you choose an indoor or outdoor venue, ensure that it has adequate parking and room for tents and vendors.
Registration Management
You need to figure out how you will conduct the tournament registration. Will you need any software? Or are you going to do everything manually on a spreadsheet? You might have to invest in software to save time if it's a big tournament. However, consider having a manual system as a backup in case the software fails. This is a decision you must make ahead of time since it could take time to master the software.
Setting Event Fees
When preparing to host, you must determine how much you will charge. You need to consider factors like venue charges, advertising, gift cards, awards, and every other expense involved. If you'd like to keep the registration fees low, you can consider finding sponsors for the event. You can offer the sponsors perks like printing their logo on the banners or a complimentary booth.
Formulating a Contingency Plan
You need to plan what would happen if the event can no longer go on as scheduled. For instance, you can no longer carry through with an outdoor tournament if it rains. In that case, are you going to change the date? Or are you going to have a backup indoor venue? And even if everything goes on as planned, will you have a refund policy for people who have to cancel last minute? A well-thought contingency plan is essential to avoid ruining your reputation.
Advertising
Your tournament can only be successful if you get people to attend. All that planning effort would go down the drain if you don't publicize the effort. Once you've planned everything else, it's time to advertise it. Some forms of advertisement are free, while others are not. Choose a channel that best reaches your target audience, such as social media or print.
Picking the Ball
Most people often overlook this part when planning tournaments, but picking the proper ball is incredibly important. It trickles down to specifics like choosing the color of the balls. Again, you will have to consider the venue. For instance, an orange ball might not be a good idea if the venue is an indoor court with orange background walls.
How to Prepare for a Pickleball Tournament
So, you have a pickleball tournament coming up? Time to get ready. Here are a few tips:
Read Pickleball Materials
Reading tips and strategies about the game is one of the best ways to get better at pickleball. Lucky for you, there are several blogs online where you can find helpful information. You can learn about pickleball grips, drills, killer serves, and so much more.
Practice and More Practice
It goes without saying that you need to practice whatever you read and everything else you know before you face your opponents at the tournament. Usually, things get stressful in a competitive setting. For a better chance of winning, consider getting a pickleball coach. They will help you master the proper way of different pickleball drills. Some coaches even offer virtual lessons, so you don't have to worry about not finding a coach near you. It also helps if you play against stronger players. You can learn their strategies and techniques and get better at your own game.
Overall Fitness
You need to be generally fit to excel at pickleball. You can move faster across the court, hit the pickleball more quickly, and play for longer. Some good ideas to stay fit include yoga, pilates, lifting weights, and cross-training. You can also participate in another sport to improve your fitness as you prepare for your pickleball tournament.
The Role of a Pickleball Referee
Like any other game, a pickleball game has a referee. Their responsibilities include:
Keeping track of the score, including calling out the score
Keeping an eye on the gameplay and ensuring that the players abide by the rules
Making rulings on disputed joints
Enforcing penalties assessed during the game